Welcome to the Holosapiens project!
This is a culinary medicine project. It is based on traditional Chinese medicine unique understanding that food and herbs come from the same source thus all foods have medicinal properties equally as herbs do. Besides acupuncture and herbal prescriptions traditional Chinese medicine also incorporates food therapy - the most non-toxic/no side effects biochemical approach to health and disease. This project offers an easy-to-understand overview of TCM's principles, an overview of the different disharmonies and how to address these disharmonies with food therapy and acupressure. It is written in the lightest terminology-free manner possible and covers the basics of TCM.
In order to create a better understanding about the all-encompassing view of traditional Chinese medicine and to also help our readers navigate through the project easier, we built the project into six chapters. Human health is observed from a physiological and emotional but also from an ecological, bio-chemical, and vital aspects, which together help create a more wholesome and complete view of the human being. These five aspects correspond to five chapters: "Ecology", "Materia Medica", "Physiology", "Vitality", and "Mentality". It is important to never view any of these aspects/chapters as separate or independent from one another as the human being is largely complicated and unable to be defined by some or all of its manifestations. The function of these aspects in this project is to create yet another angle that points to the richness and complexity of the human being, and in no way to divide, separate, reduce or solely define the wholeness of the former.
There is an additional sixth chapter called "Kitchen medicine". This is a friendly blog devoted to exploring and creating healing recipes for the different physiological and mental conditions.
The project has two directions – reading/educational and advanced/customised. The reading/educational part is absolutely free and the curious reader will find numerous materials about health from the perspective of traditional Chinese medicine, all organised in the chapter that corresponds to their topic. You can access the materials by clicking on any of the above subjects/chapters and then select the material that you want to read about.
The advanced/customised part of this project requires paid subscription. It is intended for health conscious people and medical professionals who want to incorporate food therapy and acupressure in their daily lives/medical practices. You can read what options we developed for our subscription users here.
Thank you for your time and interest in our project!
The Holosapiens Team
About the Founder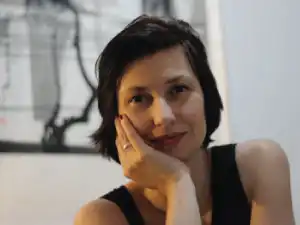 Yana Spasova
Yana holds a Master's degree in Traditional Chinese Medicine. In 2006 she received her Master of Science in Traditional Chinese Medicine from ACTCM, San Francisco, CA, where she earned academic qualification in all areas of TCM - theory and diagnosis, acupuncture and herbal medicine, but her professional passion became therapeutic nutrition and food therapy.
In 2008 Yana founded the Holosapiens Project which aimed to introduce the basic theory of TCM and the "food as medicine" concept to the general public. In 2012 she left for China where she worked as a lecturer at the Medical department of Shenzhen university and taught traditional Chinese medicine to Chinese medical students (among other subjects). During the period of her teaching she was rated top 5% among university lecturers and in 2017 she received the Honorary Award from the Dean of the Medical School at Shenzhen University for quality of teaching. While in China Yana was also able to further her studies in therapeutic nutrition through exploring and absorbing the Chinese culture which substantially added to her knowledge.
Today Yana is back in Europe where she is developing various TCM teaching programs for different student levels, currently offered in two languages. If you have professional inquiries you can contact her by email at